Orthotics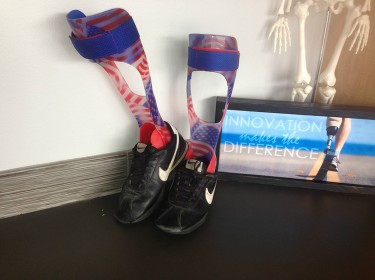 Our Practitioners offer custom and custom fitted orthotics for the upper and lower extremities and the spine.
Custom Orthoses
Accomodative & Functional Foot Orthoses
UCBLs
Ankle Foot Orthoses
Supra-Malleolar Orthoses (SMO)
Knee Orthoses
Knee Ankle Foot Orthoses
Hip Knee Ankle Foot Orthoses
Hip Abduction Orthoses
Spinal Orthoses (LSO, TLSO, CO)
Upper Extremity
Pre and Post Operative Applications
Custom Fit Orthoses
Some custom fitted orthotic devices are available upon request from your physician. Custom fitted orthotic devices are designed for short term use only, and when custom devices are not necessarily warranted. We fit and provide such devices on an as needed basis, therefore our supply is typically limited.

Please note that we take the time to evaluate you, take measurements, research the best product for you and your needs, and then fit the device to you. Fitting the device to you will ensure proper fit and function before you take anything home. We will also train you how to use your orthosis. We provide a service along with the product, not just the product.

Our area of expertise and access to field specific vendors will aid in providing you with something that is superior to a typical DME or retail supplier.
Certified to Provide:
E-Mag Active Stance Control KAFO
C-Brace Orthotronic System
Features Available
Customized Finishing
Carbon Fiber
Plastic
Leather
Metal
Foam